It's a fact: climate change has taken hold of the entire planet, which is gradually warming up. When we compare the years 1961-1990 with the period between 1991 and 2020, we see an average temperature increase of 1.3°C. This phenomenon has a huge impact on the vineyard and requires Maison Ruinart to really rethink its methods. As a witness to the temperamental force of nature, the Ruinart Blanc Singulier cuvée has become a symbol of climate change, perpetuating the pioneering spirit of a Maison that blends tradition and innovation.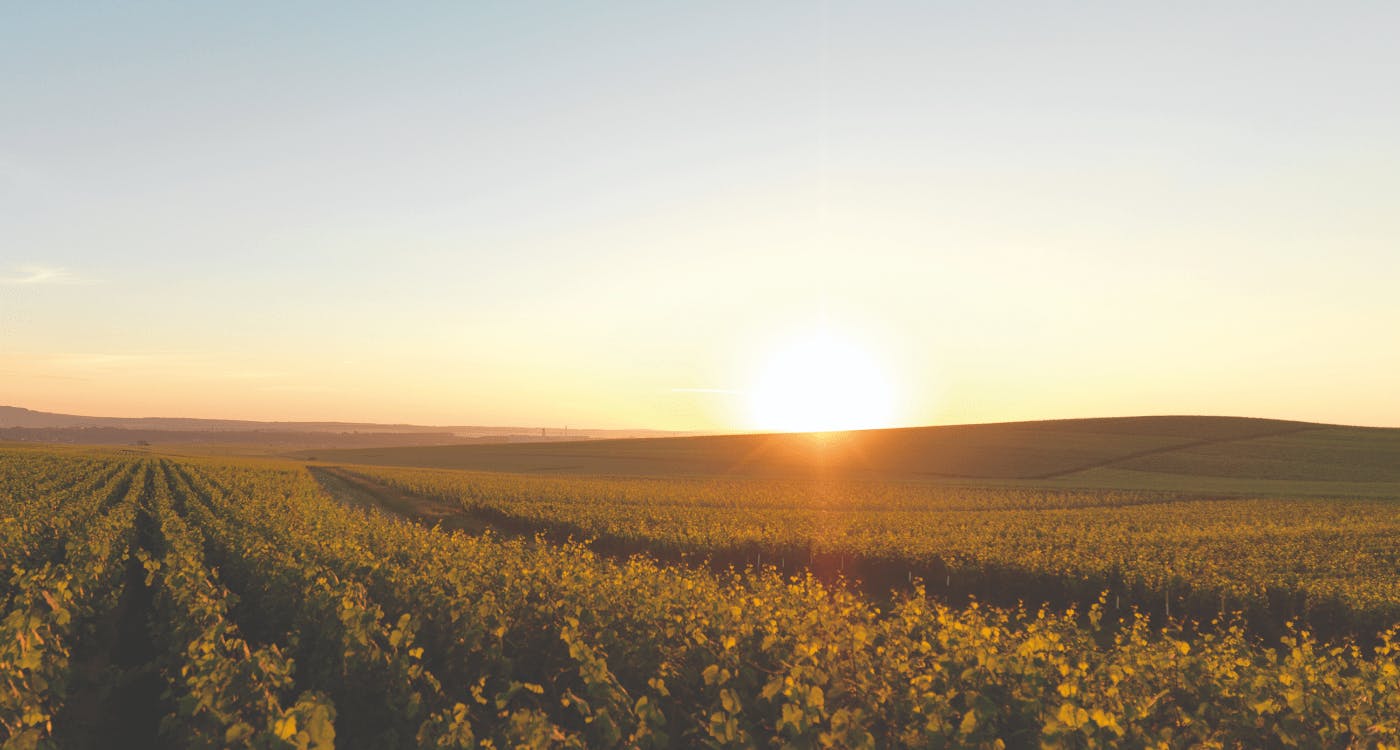 30 YEARS OF CLIMATE CHANGE
"THAT YEAR, THE SECATEURS MADE THEIR FIRST PRUNING CUT ON SEPTEMBER 1ST. AT A TIME WHEN THAT COULD HAPPEN AS LATE AS EARLY OCTOBER, IT WAS UNHEARD OF."
Talking about the history of grape harvests, Florence Boubée-Legrand, winemaker at Maison Ruinart, refers to 1976, one of the first years to face a heat wave.  Since then, the seasons with an early ripening have multiplied—and it's sometimes necessary to ask vineyard workers to cut their vacations short.  "Starting from 2003, which was a real turning point, no fewer than seven harvests began in August. And since 2017, we have had an early year every other year", confirms the winemaker. Fluctuations, unpredictability, extremes: both in the soil and in the vine, the phenomenon stirs up disruption, and Champagne is shifting from a cool to a temperate climate. Subject to a steady increase in average temperatures and milder winters, the vines sometimes awaken earlier — running the risk of potentially destructive spring frosts. The number of days between flowering and harvest has also decreased, averaging from 100 to 87 days. This acceleration influences the characteristics of the grapes, with a higher sugar content and lower acidity. Roughly translated, the aromatic profile and balance of the vines change over time. Maison Ruinart adapts to this new expression of its terroir and accepts it as a challenge of nature. 
50 days separate the first day of harvest in 1972 and 2011, which took place on October 12th and August 23rd, respectively. 
7 harvests have started in the month of August since 2003, including 5 for the most recent vintages
100 days separated the flowering from the harvest. This duration has now been reduced to an average of 87 days over the past ten years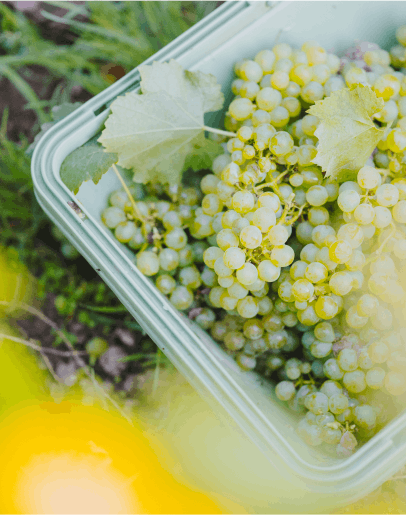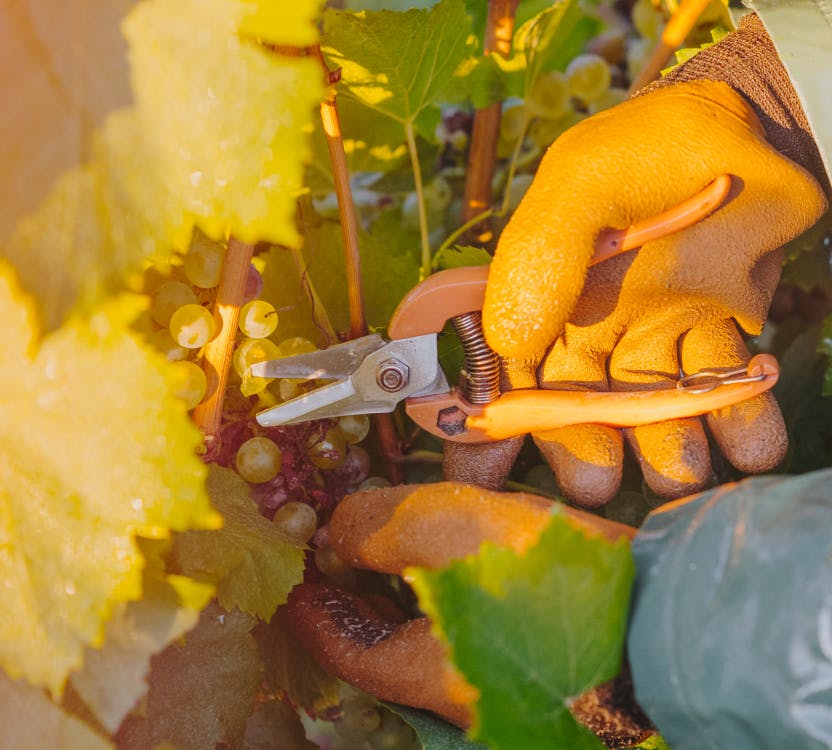 Markers of climate change
Oenologists and winegrowers have specific markers to measure the impact of climate change on the vineyard. Maison Ruinart closely follows the Huglin heliothermal index, which reflects the climatic conditions during the vine cycle, based on the daily average temperature from May to October.
9
Since 2006, the Champagne region has experienced a temperate climate on 9 occasions, approaching the temperatures of other regions further south.
Huglin index
Swipe to discover other stats
RUINART, COMMITTED FOR MORE THAN 20 YEARS
Early or late heatwaves, record temperatures, unpredictable levels of sunlight and rainfall: as a daily observer at the forefront of a nature that is evolving with the whims of climate change, Maison Ruinart is primarily an actor in the protection of its precious territory. "Everything starts in the vineyard, where our fruits flourish. Implementing more sustainable viticulture is essential to preserve both the environment, and the quality of the soil and our grapes," confirms Jean-Francois Jourdain, the head of the Sillery and Taissy vineyards. At the forefront of sustainable viticulture, Ruinart has been gradually transforming its practices since the early 2000s. Twenty years later, the Maison has reduced its use of inputs and fungicides by 50% and no longer relies on herbicides or insecticides.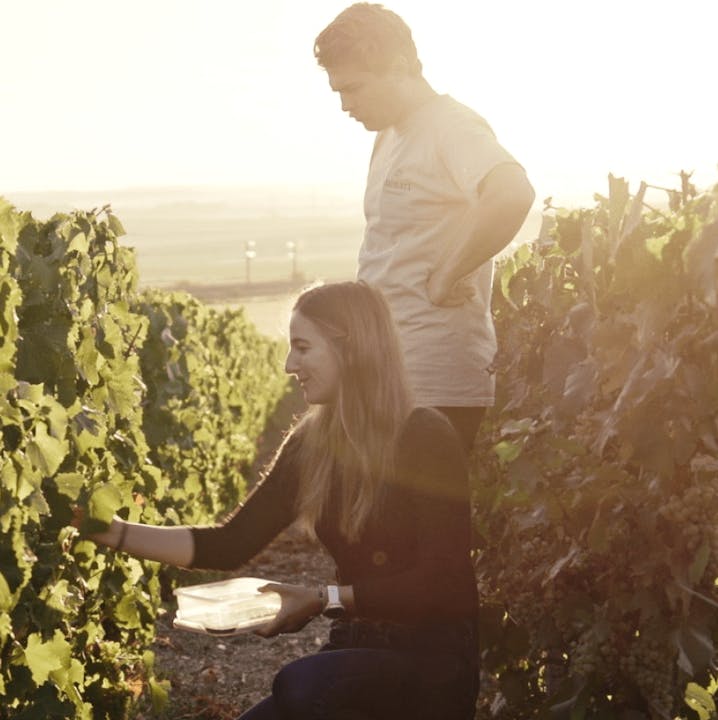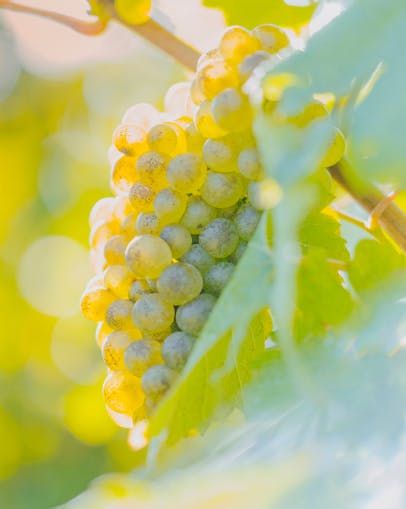 The Taissy vineyard: an open-air laboratory
A gentle slope, vines overlooking adjacent forests, green hands silently and skillfully tending the bunch in every season: at first glance, the scenery of the Taissy vineyard is strikingly like that of its neighboring plots. However, the eye is quickly drawn to three intriguing silhouettes standing there benevolently. Created by NILS-UDO, "Habitats" provides a home for birds, squirrels, bees, caterpillars, and ladybugs. More than just an artistic installation, perpetuating the Maison's historical commitment to artistic expression and creativity, this German artist's work—composed entirely of wood and vine branches—is a call for reflection and regeneration, to which it contributes.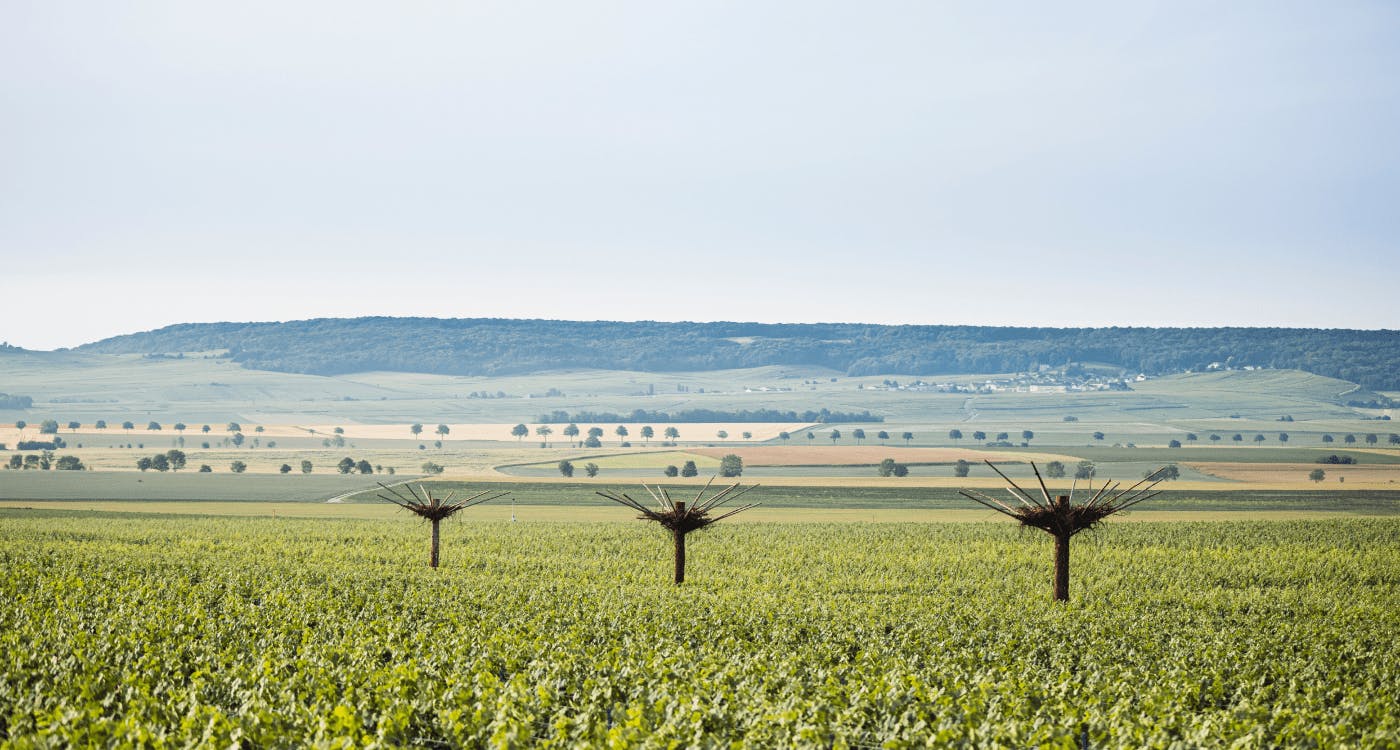 Another flagship initiative of Ruinart's commitment to resilient biodiversity is a vast agroforestry project that lays the foundation for the viticulture of tomorrow. The idea is to plant 20,000 trees and shrubs and install 180 insect hotels and nesting boxes built to become refuges for local wildlife. By creating ecological corridors, these refuges connect different areas within a territory, fostering the development of diverse yet interconnected ecosystems.  This restoration of the biodiversity also facilitates root development, improving soil structure. Initial indicators already demonstrate the effectiveness of these installations, with an upsurge of arthropods, nematodes and earthworms in those areas. Certified as High Environmental Value and Sustainable Viticulture since 2014, Taissy is now more than ever a land that is already adapting to tomorrow.
With the help of a startup, Ruinart is measuring the environmental DNA of different soil samples from the five ecosystems present in Taissy...
With the help of a startup, Ruinart is measuring the environmental DNA of different soil samples from the five ecosystems present in Taissy: the forest, the meadow, the intra-parcel hedge, the row, and the inter-row. The initial results? Just eight months after the last hedge plantings, decomposers of organic matter and surface worms are returning in significant numbers.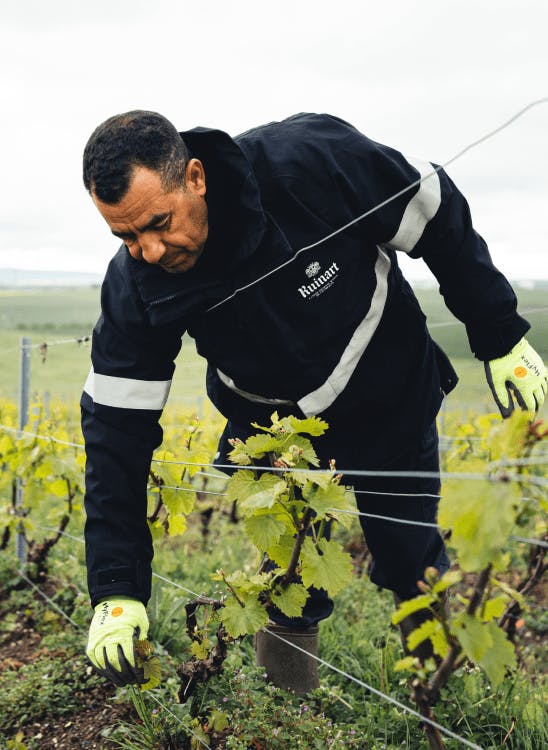 EVENT DOCUMENTARY
Documenting a year in Champagne, (RE)CRAFT, the film by Yann Arthus-Bertrand and his co-director Jeremy Frey, presents an artistic and committed vision of the challenges that the production of champagne must overcome. The film pays tribute to the region's excellence through a series of encounters with experts and key figures in the field, including oenologists, winemakers, and cellar masters.
(RE)CRAFTING CHARDONNAY
Climatic variations are causing a more vigorous maturation and a chardonnay with unique aromatic expressions. This transformation coincides with the challenge of producing wine in an era marked by global warming. More than 20 years ago, Maison Ruinart boldly defined its style by presenting its first Blanc de Blancs. This was a daring move during a time when a 100% chardonnay champagne was not widely accepted. Now, the Maison is once again demonstrating its pioneering spirit. Combining visionary winemaking expertise and a commitment to innovation, a new cuvée has been born: Ruinart Blanc Singulier.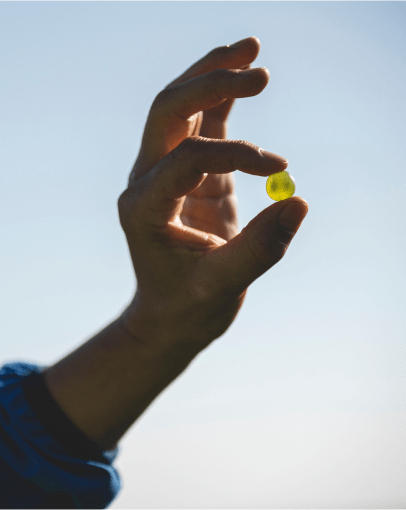 RUINART BLANC SINGULIER: INNOVATION BY NATURE
"It's nature that decides." Frédéric Panaïotis remembers the birth of Blanc Singulier as it was yesterday. It's 2015, and "contrary to the past results of the vine's cycle which is now reacting differently, we start to feel the impact of global warming on the balance and aroma of our raw material, the grape." The situation is changing and, faced with these evolving wine profiles, the cellar master of Maison Ruinart and his team wonder "how to make these truly atypical chardonnays— a new subject in itself — stand out so that they can be considered vintages." Through reworking the blends and aging them in large oak vats, the research progresses. It's a promise full of authenticity: a cuvee composed of 80% of the wines from a year with an atypical climate, an aromatic profile with a special maturity, and a zero or very low sugar content. 
Ruinart Blanc Singulier is made up of 20% of a dedicated perpetual reserve...
Ruinart Blanc Singulier is made up of 20% of a dedicated perpetual reserve.
This technique allows for the isolation of a vintage serving as a base, which is supplemented each subsequent year by the fruit of a new harvest. The purpose? "To bring polish and suppleness to a portion of the wines, which are then used in the final Ruinart Blanc Singulier blend. With regards to crafting this vintage, this variation adds an additional level of complexity to the wine's aromatic palette and texture. This nuance helps highlight the unique aromatic expression of the Chardonnay grapes", explains Florence Boubée-Legrand. To date, this perpetual reserve combines wines affected by climate change from six different years.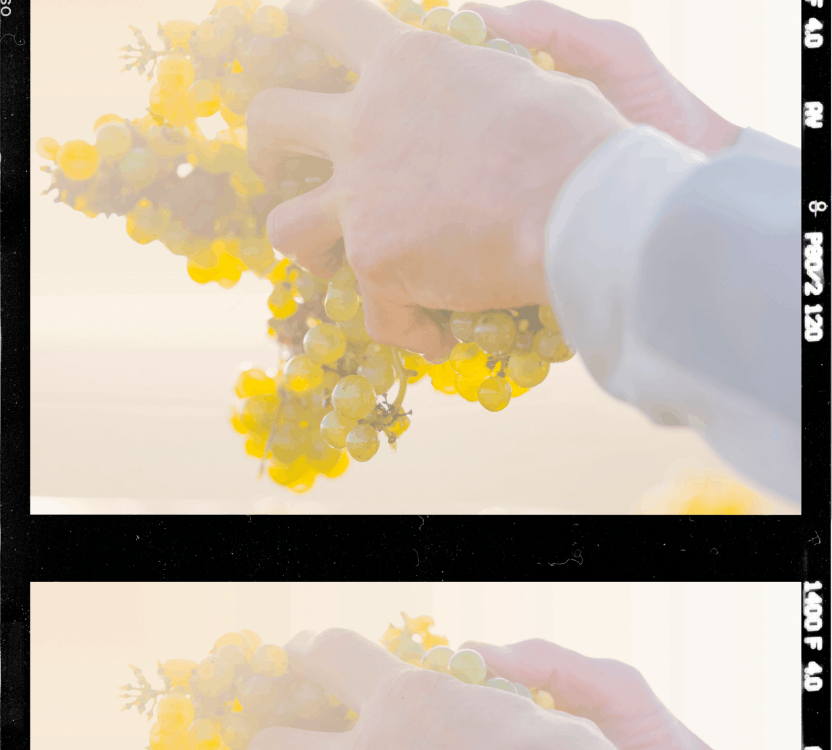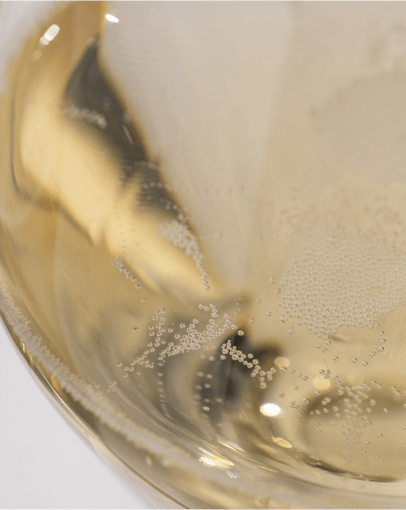 A reimagined production process with:
A selection and new blend of 100% chardonnay from a climatically unique year.
The creation of a specific perpetual reserve, with half aged in wooden casks and the other half in stainless steel tanks. 
Cellar aging for a duration of 36 months, which is 6 to 12 months longer than Ruinart Blanc de Blancs.
A low to no sugar dosage, where traditionally in Champagne, winemakers add what is called a 'dosage liqueur' to the wines, composed of sugar dissolved in wine. Thus, each edition of Ruinart Blanc Singulier has the fullness to express its year of vinification.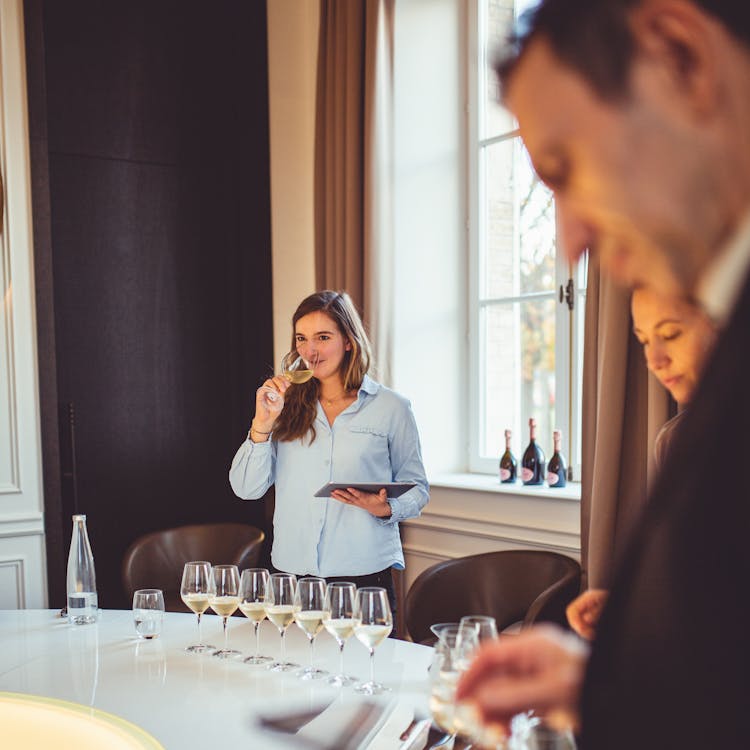 BETWEEN UNIQUENESS, RARITY, AND DELICACY
As a testament to climate change and ever-evolving nature, Ruinart Blanc Singulier embodies a year unlike any other. Precisely because the unpredictable cannot be predicted, Maison Ruinart makes a promise... to not promise to produce an edition tinged with such exceptionality every year. "We experienced a warm and sunny season in 2018, accelerating the vegetative cycle of our vines, with ripe and early harvests, which started as early as August. Nature gifted us this first cuvée of its kind, and it is impossible for us to predict when she will call upon us again to renew ourselves, yet again, and expand the Blanc Singulier collection", explains Frédéric Panaïotis. This round and powerful texture, this almost honeyed natural sweetness, the vegetal register, its bright and luminous yellow robe that characterizes this Edition 18 when it warms up will, therefore, likely remain unparalleled. All while we wait, for tomorrow, to be able to compare it with a hypothetical cuvée enriching the collection: that of a plural Ruinart Blanc Singulier.
"We work with a material to which we adapt. We could certainly find similar aromatic profiles in future editions, but there will naturally be variability."